Getting there
In order to know the timetable of all the trains and inter-city buses within Slovakia as well as between Slovakia and its neighboring countries, use this excellent website: cp.sk. Available in Slovak, English and German (you can change the language in the lower side of the page) the website gives you precise information about the connections. If you have a student confirmation document, please take it with you and present while buying tickets: you can often have discounts.
By plane
The most appropriate airports to get to Banská Štiavnica are those of Bratislava (Letisko M. R. Štefánika, BTS) and Vienna (Flughafen Wien-Schwechat, VIE). The Budapest (Budapest Liszt Ferenc nemzetközi repülőtér, BUD), Košice (Letisko Košice, KSC) or Poprad (Letisko Poprad-Tatry, TAT) airport can also be another option. Several airlines (Ryanair, Wizz Air, Transavia) offer flights to these airports.
From Vienna to Bratislava
There're frequent buses from the Vienna airport (VIE) coming to Bratislava in every hour. The journey takes just an hour. You can get off either at the Bratislava airport ("Bratislava,,letisko") or at the main bus station ("Bratislava,,AS MHD"). Please check the route of the bus you choose to see where it stops in Bratislava. It's possible to book tickets online or simply buy them directly from th driver.
From: Wien,,Flughafen Wien
To: Bratislava
Public transport in Bratislava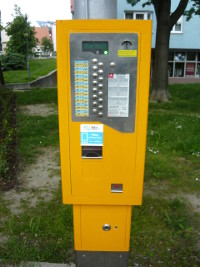 You can use the city transport (buses, trams, trolleybuses) in the capital. Definitely buy a tickets before getting on a vehicle and keep in mind that you have to validate it (there are special machines for this in every public transport). You can buy them at ticket vending machines in stations, or in a building right next to the main train station.
You can buy tickets for the public transport in Bratislava in orange vending machines at the bus stops. You need to have euro coins for that. A basic 15-minute ticket costs 0,70 €, a 30-minute one costs 0,90 €, and a 60-minute one - 1,20 €. Children under 15, student under 25 and people over 62 have a 50% discount (see the detailed fees). A ticket lets you change a vehicle anytime you want.
From the airport for the train station or vice versa: take bus number 61 (Letisko → Hlavná stanica = Airport → Main station); the trip takes 25 minutes.
From the main bus station to the main train station or vice versa: take bus number 210 (Autobusová stanica --> Hlavná stanica = Bus station → Main station); the trip takes 10 minutes.
From Bratislava to Banská Štiavnica
There're a few daily buses directly from Bratislava to Banská Štiavnica as well as bus connections with changes in another town (Zvolen or Žiar nad Hronom). There're no direct train lines between Bratislava and Banská Štiavnica, and a train journey usually takes a few more changes. Definitely check the timetables at cp.sk.
From: Bratislava
To: Banská Štiavnica
Once you arrive at the bus station of Banská Štiavnica, you'll have to walk some ten minutes to reach the SES venue. More details are available in the map, which we've prepared with various useful places of SES.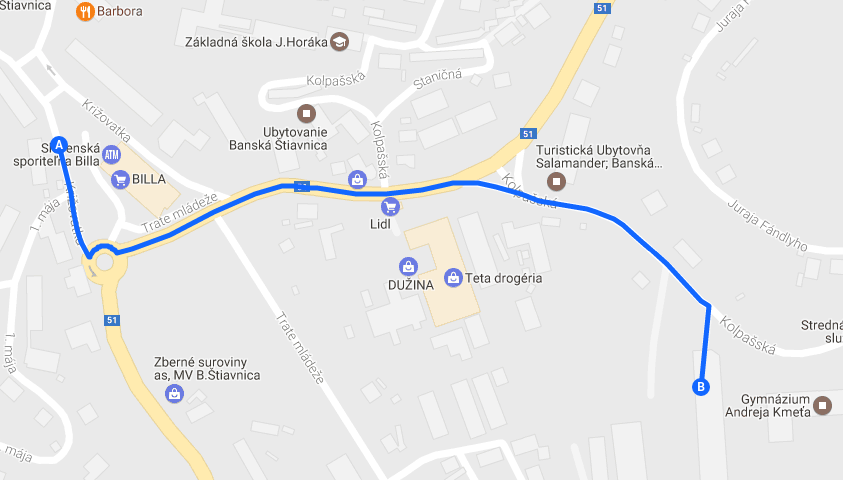 The Slovak language
A small bit of practical advice: learn some basic vocabulary in Slovak :) E@I created a web site for learning Slovak. You can find a list of the most useful phrases here: http://slovake.eu/learning/intro/phrases.
During SES, you will be able to buy an Esperanto booklet entitled Slovaka konversacio skize (a sketch of Slovak conversation) at the book service.