Cultural program
Concerts
Here are the details for the concerts which have already been confirmed. During SES, the following people and groups will play for and entertain you:
Kaŝi
JoMo
Jonny M
Information coming soon
Kaŝi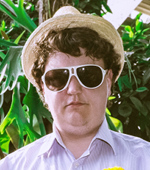 Kaŝi (real name: Carsten Schnathorst) is a German musician and Esperanto speaker. He comes from Osnabrück and lives in Hamburg. There, he plays in the band The living Music Box. Carsten sings and plays the piano. His repertoire includes songs of his own as well as well-known songs from all over the world.
During SES, he will delight the hearts of all listeners with his mix of Esperanto songs of his own, popular international music, and other well-known Esperanto songs which he sings with his remarkable voice.
JoMo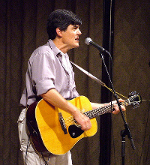 JoMo (Jean-Marc Leclerq) is a French singer and Esperantist. Originally from Lyon, he now lives in Toulouse. He used to be a member of the band "Les Rosemary's Babies".
JoMo shows strong support for linguistic diversity through his music. His repertoire includes traditional as well as rock music in 22 languages (among them Esperanto), a feat which earned him a mention in the Guinness Book of Records. His upbeat and energetic songs - in several languages - will set the mood and make you dance along during your stay at SES!
Jonny M
Back in 2010, the then 26-year-old Jonny M started producing reggae music in Esperanto. His first songs, published on the free EP "Pli ol Espero", rapidly became popular in Esperantujo. The follow-up album "Regestilo" followed in 2013 to popular acclaim. After concerts around the world (in Japan, Brazil, Indonesia, and many cities around Europe) he launched a new album "Kreaktiva" in December 2016, containing some thoughtful lyrics but which still fills the dancefloors at Esperanto events!
Disco
Dancing nights and international music from various musicians await you during the whole week. You'll have a chance to waste your energy (if you have any after the whole day!) in the dancing hall, right next to the bar. Those wanting to dance and have fun, please definitely come and make the SES night life more joyful.
Cinema
Every evening, films will be shown, either with Esperanto subtitles or dubbed into Esperanto. There will be various kinds of films awaiting you - fairy tales, documentaries, comedies, science fiction. You will find a detailed programme of the films shown in the cinema in the SES programme booklet.
International culinary festival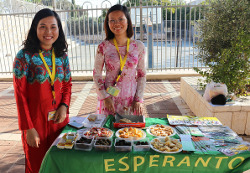 Are you interested in the cultures of the world? You will have a chance to know the flavours of other countries. During the international culinary festival, you will be able to taste specialties from various countries for free. For a successful festival, every participant should bring something from their country (snacks, candies, cakes, biscuits, alcoholic and non-alcoholic drinks, etc.).

Famous or unusual things (or both) that you cannot find abroad would be ideal. Every country will have a table to present its delicacies and the room will turn into a market of different flavours.