Program
The SES days will look like this:
Breakfast.
From 9am until 1pm: Intense Esperanto (or literature) course with tea and coffee breaks
Lunch
Afternoon program: talks, workshops, excursions, conversation rounds, bookshop, cinema...
Dinner
Evening program: concerts, plays, international culinary festival, international program
Night program: gufujo, bar, disco, karaoke
Full-day excursion will take place on Wednesday: No courses nor afternoon program will take place on this day.
Cultural program
Concerts
Kaŝi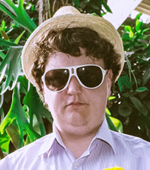 Kaŝi (real name: Carsten Schnathorst) is a German musician and Esperantist. He comes from Osnabrück and lives in Hamburg. There, he plays in the band The living Music Box. Carsten sings and plays the piano. His repertoire includes songs of his own as well as well-known songs from all over the world.
During SES, he will delight the hearts of all listeners with his mix of Esperanto songs of his own, popular international music, and other well-known Esperanto songs which he sings with his remarkable voice.
Two-bard concert: A bard without a beard and a bard with a beard
Mikhail (Moissey) Bronstein (1949), a writer, translator, song writer, was born in Ukraine, but now lives in Russia, close to Saint Petersburg. During his early years he occupied crucial posts in the Soviet Esperanto Youth Movement. Since 1992 He has written and published 43 books, among others, four originals novels, seven original poem works etc. and several CDs. The host of the prize Antoni Grabowski (2004) and OSIEK prize (2012). During the last 25 years he has pulled off more than 70 tours in European countries as well as those of other continents, has given talks, held concerts in the scope of several UKs (Universal Congresses) and many other Esperanto meetings.
During this year's SES, he will present his works and himself in several ways. He will not only appear in the two-bard concert, but will also give a talk on interesting topics and will teach the literature course.
Georgo Handzlik, a bard without a beard, well-known Esperanto teacher, poet, singer, author of songs, aphorisms, dramas has toured and had concerts in 26 countries. During SES he will present himself with Mikhail Bronstein in the Two-bard concert and in "The credit" play together with Saša Pilipović, which he's presented among others during the 2016 UK in Nitra.
National Evening
Barbora Hazuchová
Barbora Hazuchová is a young Slovak singer from Liptovský Mikuláš. She has been singing almost since birth and attended an arts school where she took part in a singing competition, as well as several other local competitions. Three years ago she took part in an international competition, where she was judged to be in the top 8 singers in Czechia and Slovakia. This was a turning point in her life, and she has since been singing to wider audiences.
Poludnica
The folk group Poludnica, from the village of Závažná Poruba, consists of 26 members who present and conserve the local folklore and customs for future generations. They take part frequently in a variety of events. The group's programme consists of a number of dances and songs, representing the main traditions of the Liptov region.
"La Dikoderoj"
In such an nontraditional quiz, you will encounter intriguing questions - when the "dikoderoj" come up - also some very funny answers! Don't only expect rational ones...
The guests play against the "dikoderoj", which will present a selection of answers to us in an interesting manner. But which one is right? To collect points, the guests must guess right. So join us to be part of the spectacle and help the guests! The "dikoderoj" will be guided by Luke (Luc Allemand)
Disco
Dance nights and international music from various musicians await you during the whole week. You'll have a chance to spend the remaining of your energy (if you have any left after the day!) in the dance hall, right next to the bar. Those wanting to dance and have fun, please definitely come and make the SES night life more joyful.
Cinema
Every evening, films will be shown, either with Esperanto subtitles or dubbed into Esperanto. There will be various kinds of films awaiting you – fairy tales, documentaries, comedies, science fiction. A detailed program of the films to be shown will be on display during the event.
International culinary festival
Are you interested in the cultures of the world? You will have a chance get toknow the flavours of other countries. During the international culinary festival, you will be able to taste specialties from various countries. For a successful festival, every participant is asked bring something from their country (snacks, candies, cakes, biscuits, alcoholic and non-alcoholic drinks, etc.).

Famous or unusual things (or both) that you cannot find abroad would be ideal. Every country will have a table to present its delicacies and the room will turn into a market abundant in flavours.
International evening
Can you sing, dance, juggle or perhaps possess a different talent you'd like to present to others? Would you like to present a song or a poem from your country? Do not hesitate and take part in the international evening! During which we will be able to enjoy the flamboyancy of cultures and talents of the participants of SES.
Book service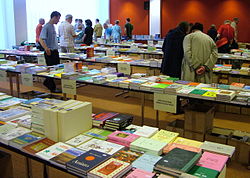 During the entire SES, there will be, once again, a book stall with a wide range of offers. In it, you will have the unique ability to purchase a variety of Esperanto goods: books, CDs, DVDs, T-shirts, buttons, and stickers, all at very reasonable prices. Take advantage of this opportunity to enrich your Esperanto collection and visit the book stall!
Talks
about Esperanto culture and movement;
and others (your contribution would be very welcome!).
Mini-courses and workshops
other languages (your contribution would be very welcome!);
workshops, dance courses, sport program... depending on the proposals of the participants: Do not hesitate to take part!
Note 1: There is no special program for children. Parents who want to come with their small children and who want a separate program for them, please contact the organizers about possibilities for hiring a babysitter.
Note 2: The above-mentioned program is provisional. A more detailed SES program will be sent to registered participants before the event.