Program
The SES days will look like this:
Breakfast.
From 9am until 1pm: Intense Esperanto (or literature) course with tea and coffee breaks
Lunch
Afternoon program: talks, workshops, excursions, conversation rounds, bookshop, cinema...
Dinner
Evening program: concerts, plays, international culinary festival, international program
Night program: gufujo, bar, disco, karaoke
This year, alongside the usual Esperanto classes, there will be a hackathon with the name Somera Esperanto-Programado (SEP). Further information is available in the dedicated website for SEP.
For a better overview, see the "detailed timetable" for SES. We will fill it in little by little as details about concerts and other events are confirmed.

Cultural program
Concerts
National Evening
Information coming soon.
Kaŝi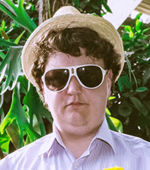 Kaŝi (real name: Carsten Schnathorst) is a German musician and Esperantist. He comes from Osnabrück and lives in Hamburg. There, he plays in the band The living Music Box. Carsten sings and plays the piano. His repertoire includes songs of his own as well as well-known songs from all over the world.
During SES, he will delight the hearts of all listeners with his mix of Esperanto songs of his own, popular international music, and other well-known Esperanto songs which he sings with his remarkable voice.
Mikaelo Bronŝtejn: Kirlanta sorto
My dears! Out of the hundreds of songs and poems that fate has given me over... I daren't even admit how many decades I've been writing for! – I've selected a dozen or so to make an hour-long programme which will hopefully entertain you more than it bores you. Some of the choices may well be known to you, others probably not; but I do hope that you will listen and enjoy them all. Yours, Mikael.
Quiz about music and languages
Do you know what Finnish, Serbian or Korean sound like? Can you easily distinguish between various languages? Test your ability to recognise languages of various songs! There are prizes for the most expert linguists.
Talks
about Esperanto culture and movement;
and others (your contribution would be very welcome!).
Mini-courses and workshops
other languages (your contribution would be very welcome!);
workshops, dance courses, sport program... depending on the proposals of the participants: Do not hesitate to take part!
Note 1: There is no special program for children. Parents who want to come with their small children and who want a separate program for them, please contact the organizers about possibilities for hiring a babysitter.
Note 2: The above-mentioned program is provisional. A more detailed SES program will be sent to registered participants before the event.