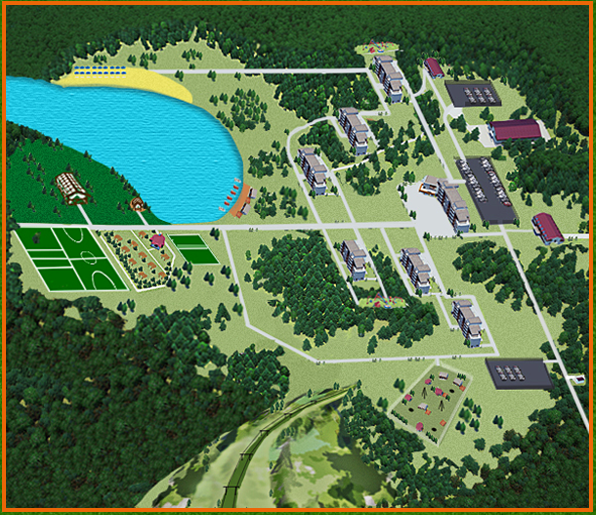 Map of the venue
The event will take place in Koltyshevo, near Moscow. All SES-related activies will take place in one large area of the Komponent resort, made up of several buidings, walkable land, sports facilities, a beautiful lake and beach open to swimmers and with canoe and pedalo rental available. It will be possible to picnic on the estate, throughout which charming pergolas of various sizes may be found. It will also be possible to play paintball, go horseback riding or go to the sauna. The resort is surrounded by woodland over a large area, where various sports facilities are located.
Congress city
La ripozejo "Komponent" troviĝas en la vilaĝo Koltiŝevo ĉe la rivero Kamenka, ĉ. 15 kilometrojn de Solneĉnogorsk, 50 kilometrojn de la moskva flughaveno "Ŝeremetjevo".
Congress venue
Participants will be staying in two- to four-bed rooms with a toilet and shower in the corridor. It will be possible to set up your own tent as well.
Note: The dormitory offers "ordinary" (basic) conditions for your overnight stay, so don't expect a great deal of luxury. However, if you wish to stay in a more upscale lodging, please contact us about your preference — we will try to help you.
There are a few shops in the nearby village, within walking distance, where you will be able to buy beverages, food and other items.