Concerts
There will of course be concerts every night. The National Concert will take place on August 21st (Thursday). Be ready to display your best arts skills on August 24th (Sunday) for the International Concert!
More information coming soon about other performers.
Kimo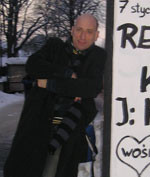 Kimo
Kim J. Henriksen from Denmark is a native speaker of Esperanto, of legendary fame in the youth Esperanto movement and Esperanto rock music scene of the 80s and 90s. He was the main contributor to the atmosphere of many international youth meetups.
He was one of the founders of the music group Esperanto Desperado in 1996, which was first called Brokantaĵoj (Antiques). He was a singer and accordionist in that group. In 1982, he was a member of the group Amplifiki together with Martin Wiese, Aline Boulet, Isabelle Rome, Bertilo Wennergren, and Micke Englund. He wrote and sung the most famous and most popular song of Esperanto rock music: "Sola" (Alone).


Mikaelo Bronŝtejn
Mikaelo Bronŝtejn
Mikaelo Bronŝtejn is a well-known singer, poet, and author from Russia. He is the author of several hundred poems and songs in Esperanto, and has also written or translated 23 books. He was an active member (and later also member of the leadership) of SEJM (the Soviet Esperanto Youth Movement). He was awarded the prestigious literary prize "Antoni Grabowski" in 2003. During SES this year, he will sing several of his songs for you.
Magiaj voĉmelodioj de udmurtoj kaj besermjanoj
En Rusio loĝas multege da popoloj kun bunta kaj originala kulturo. Ni invitas vin konatiĝi kun la kanta tradicio de udmurtoj kaj besermjanoj. La unika artistino Natalja Dziga plenumos por ni la antikvegajn magiajn voĉmelodiojn de tiuj popoloj. Bazo de ilia kantado estas improvizado kaj emocia impulso, ligita kun certa situacio: glacimoviĝoj sur rivero, nuptofestoj, adiaŭo de soldatoj por militservo, entombigoj, foje estas kantado sen speciala kialo, nur laŭ la humoro. La tekstoj de tiuj kantoj konsistas nur el konjugacioj, tial la sencon necesas serĉi en muziko, sentoj kaj emocioj de la plenumanto. Profundiĝi en la paganan mondsentemon de la antikvaj popoloj helpos al ni la sorĉaj dancoj kun fajro de Ksenija Sujarkova. Ĉuj homoj ricevu la benaĵojn de la Tero!
Konatiĝu kun rusaj popularaj kantoj per Esperanto! (kun Mikaelo Povorin)
Jen vera ĝuo por ĉiuj: kanti popularajn rusajn kantojn en Esperanto! Por esperantistoj estos multaj surprizoj: vi eble eĉ ne supozis, ke tradukoj de viaj ŝatataj kantoj ekzistas. Por eksterrusianoj estas bonega ŝanco ekscii, pri kio temas la kanto, eble, iam aŭdata en la rusa lingvo, lerni la melodion kaj ekscipovi ĝute kanti. Speciale atentu, ke la kantojn, kiujn vi nun lernos bele plenumi, vi havos eblecon kunkanti dum la lignofajro, okazonta en romantika sabata apudmoskva vespero! Tial ni kune faros nian lignofajron neforgesebla!
Disco
This is the place to be to dance and maybe even sip a small drink! Come if you like to be invigorated by energetic moves and loud music!