Summer Esperanto Study (SES 2014 SK) took place from the 12th to the 20th of July, 2014.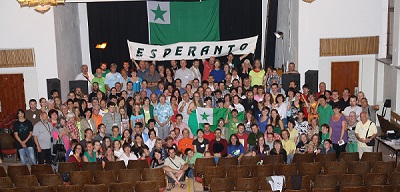 SES 2013 SK participants

Recent News
2014-07-21
The 8th Summer Esperanto Study is now over. We would like to send all participants our heartfelt thanks. A SES photo album will soon be made available. And do not forget that that SES in Russia is only a few weeks away! People participating in both events will get a €10 rebate.
2014-07-05
A programme brochure with detailed information on the SES programme has just come out. You can download it here.
2014-07-04
SES will begin in just 7 days! In order to gauge your current level of Esperanto, we would like to ask you to answer an online questionnaire, so that we can suggest the course which best fits your current abilities. Read more on the Instruction page.
2014-06-12
You will also be able to travel to SES 2014 SK by caravan (group voyage) from Switzerland (possibly also from France) through Germany and Austria. Read more on the page Getting there.
2014-06-06
A newsletter with detailed information for participants has been published. Please read it carefully; it contains a lot of useful information for the trip to Slovakia and for a pleasant stay there!
2014-01-23
This year SES will be taking place twice! First in Slovakia and then a second time in Russia. Choose one, or come to both, it's up to you! Moreover, participants in both events will be awarded a €10 rebate on their registration fees for the second SES, as well as a €5 voucher for the tea room!
2014-01-23
SES in Slovakia now has its own Facebook page.
2013-12-26
The website for SES 2014 in Slovakia ("SES 2014 SK") is now online.
This year, for the very first time, SES will also be held in Russia ("SES 2014 RU"). This second event has its own website.
SES 2014 SK will take place in Nitra in Slovakia, in the university student dorms "Zobor". Nitra is a beautiful and historical city, located only 90 km from the Slovakian capital city of Bratislava and 50 km from Trnava. The distance from the airport of Vienna-Schwechat to Bratislava is approximately 45 km and the distance from the airport of Budapest to Nitra is approximately 155 km.
The program will consist of several parts:
Morning: teaching of Esperanto;
Afternoon: excursions, lectures, crafts, sports, work groups, etc.;
Evening: national and international cultural evenings, concerts, films, dancing with DJs...
Teaching of Esperanto will be guided by experienced Esperanto teachers in 5 groups, divided by language level.
Photo galleries from previous years: SES 2009, SES 2010, SES 2011, SES 2012, SES 2013
Wikipedia: SES cs fr sk · lernu! ar az be ca cs de el en es fi fr gl hsb hu hy it ko nl pl ru sk th uk vep zh · E@I cs de en fr ja ko pl ru sk zh
Sign up for TEVA's first congress during SES!
TEVA (World Esperantist Vegetarian Association), together with the SES team, is organizing its first congress, to be held during the last few days of SES 2014 SK. You have the option to sign up only for the TEVA congress or take part both in SES and the TEVA congress (select your preferred option in the common registration form).
Bulletin
Here is a newsletter with detailed information about travel to and the stay at SES 2014 SK. Please choose one of the following languages to download the newsletter in.
download: Esperanto · English
Programme brochure
A brochure has been prepared which contains detailed information on the programme which awaits you in SES 2014 SK: talks, concerts, excursions, etc. Click on the following link to download it:
download
Caravan
The EEU congress in Rijeka (Croatia) will take place before SES 2014 SK. A caravan will be organized to travel in group to Nitra after that congress. There will also be a communal voyage organised through Germany. Read more on the page Getting there.
A short video about SES 2013:
A short video about SES 2013: