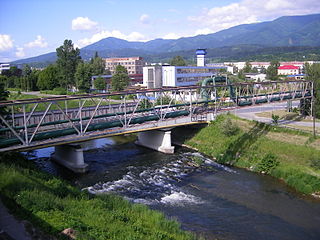 City of Martin
(source: Wikimedia Commons)
SES 2013 will take place in the city of Martin in Slovakia, in the students' dormitories of the pharmaceutical department of the university and in the adjacent Secondary Technical School (Stredná priemyselná škola). Accommodation, meals, and night programme will take place in the dorms; lessons as well as afternoon and evening programme will take place in the Secondary School.
Martin is a charming and historical city, located 210 km away from Bratislava and 25 km from Žilina.
Participants will stay in two-bed rooms in the dormitory. In all, there is space for more than 700 people. Four rooms share a toilet and a shower. If you want to have a room to yourself, please select this option in the registration form (there is an additional charge for this; please see the fees). There is also the possibility of staying in your own tent, if you bring one with you.
Note: The dormitory offers "ordinary" (basic) conditions for your overnight stay, so don't expect a great deal of luxury. However, if you wish to stay in a more upscale lodging, please contact us about your preference, or else contact one of the local hotels or pensions directly to book your stay.
The dormitory has many study and lecture rooms, plus a large common area. In the evening, there is a bar and gufujo [a quiet and tranquil chill-out area where alcohol is not allowed].
The dormitory has a wireless internet connection.
Near the venue there are many restaurants and bars, a public swimming pool is adjacent.