Concerts
Here are the details for the concerts which have already been confirmed. During SES, the following people and groups will play for and entertain you:
Asorti,
Kaŝi,
B&B,
Tabea,
Gabo: Tonoj de la vivo,
information will be available soon.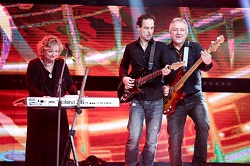 Asorti
Asorti
Asorti is a family from Lithuania who make music together. The group has often given concerts at Esperanto meetings, for example, in Latvia, Germany, Finland, Sweden, Hungary, Slovakia, and Belgium. Their repertoire contains pieces in various styles, and includes both original Esperanto music and translations of well-known, popular songs. Their concert will certainly make you join in with singing and dancing!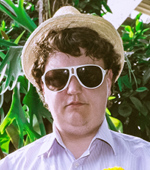 Kaŝi
Kaŝi
Kaŝi (real name: Carsten Schnathorst) is a German musician and Esperanto speaker. He comes from Osnabrück and lives in Hamburg. There, he plays in the band The living Music Box. Carsten sings and plays the piano. His repertoire includes songs of his own as well as well-known songs from all over the world.
During SES, he will delight the hearts of all listeners with his mix of Esperanto songs of his own, popular international music, and other well-known Esperanto songs which he sings with his remarkable voice.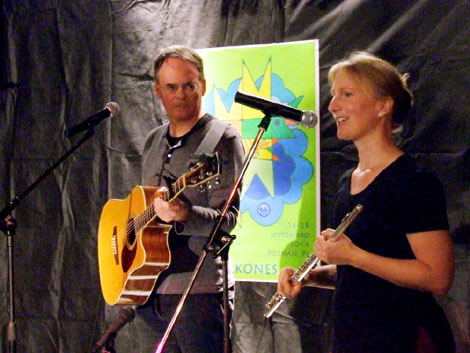 B&B
B&B
"B&B", "Betulo kaj Bertilo" aŭ (duonŝerce) "La Instruistoj" estas Birke Dockhorn kaj Bertilo Wennergren. Ili muzikas kune de dek du jaroj, kaj koncertis interalie en Arkones, SES kaj NASK. B&B prezentos al vi aron da kantoj, parte origine Esperantaj, parte tradukitaj el diversaj naciaj lingvoj kaj rearanĝitaj por fluto, gitaro kaj voĉoj. Plejparte tio estas baladoj, kiuj rakontas pri kortuŝaj flankoj de la vivo: memoroj dolĉaj kaj amaraj, amo feliĉiga kaj malfeliĉiga, disiĝo, morto kaj multo alia.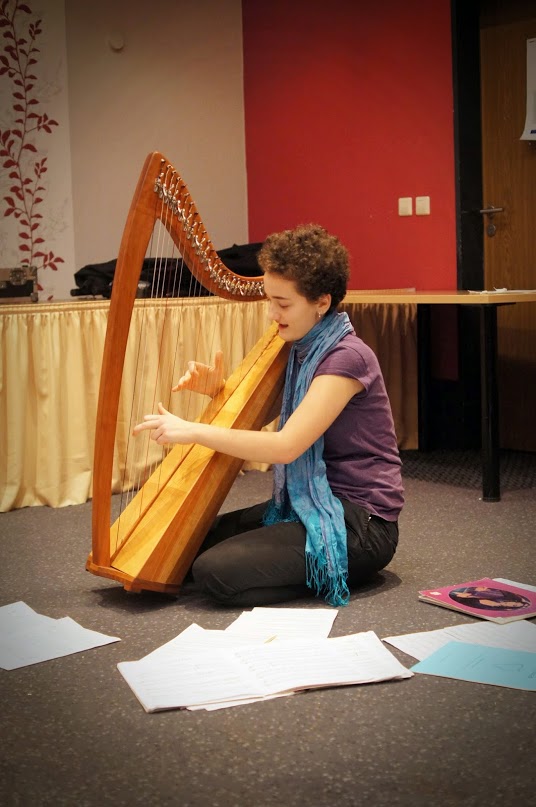 Tabea
Tabea
Tabea el Germanio faros harpan koncerton.
Gabo: Tonoj de la vivo
Temas pri medita-kuraca sidado kun uzado de vibrafono kaj tamburoj, kune kun diskuto kaj klarigo pri unuopaj solfeĝaj tonoj, iliaj efikoj kaj aplikado al vivo.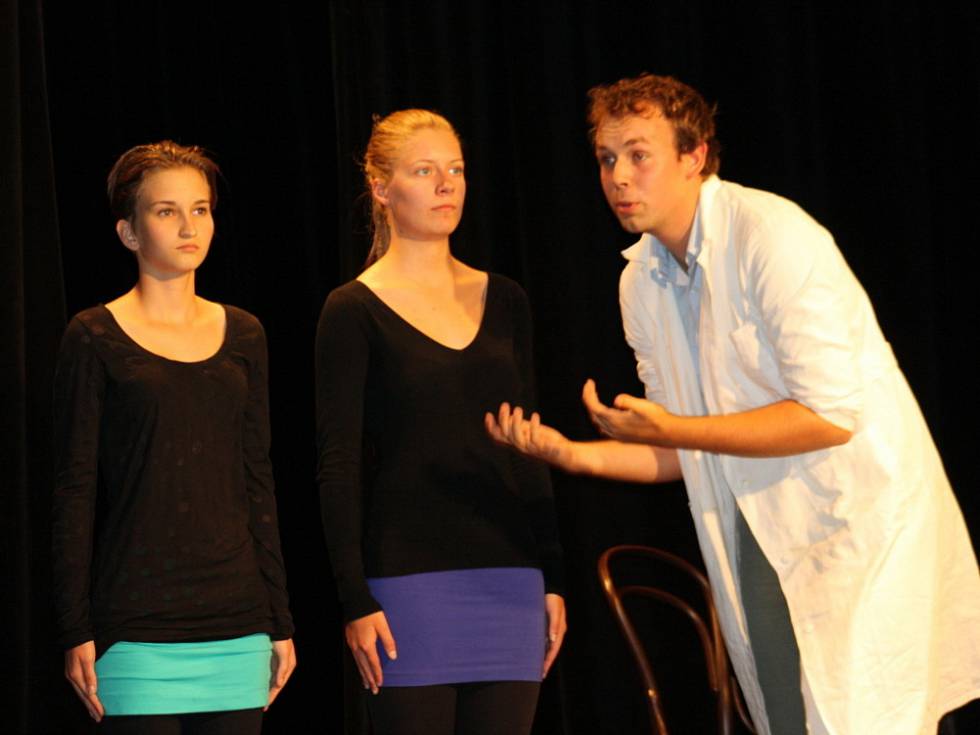 Divadlo DOMA
Theatre
DOcela MAlé divadlo ("Very small theatre", divadlo DOMA for short) was formed in 1994 and has managed the Centre for Cultural Services in Svitavy (Czech Republic) since 2006. The company now boasts 30 members aged 12 to 25, who create and act in three groups. In 2013 they prepared an Esperanto version of Karel Čapek's "R.U.R.", which they will be presenting during SES 2015. A video of the play is available here.
Disco
Every night, there will be discos with international music in various styles awaiting you. Directly next to the pub, you will be able to expend your remaining energy in the disco, if you have any left after a whole day :) Those of you who like to have fun and dance should definitely come and contribute to a great atmosphere during SES's night life!
Cinema
Every evening, films will be shown, either with Esperanto subtitles or dubbed into Esperanto. There will be various kinds of films awaiting you - fairy tales, documentaries, comedies, science fiction. You will find a detailed programme of the films shown in the cinema in the SES programme booklet.
International culinary festival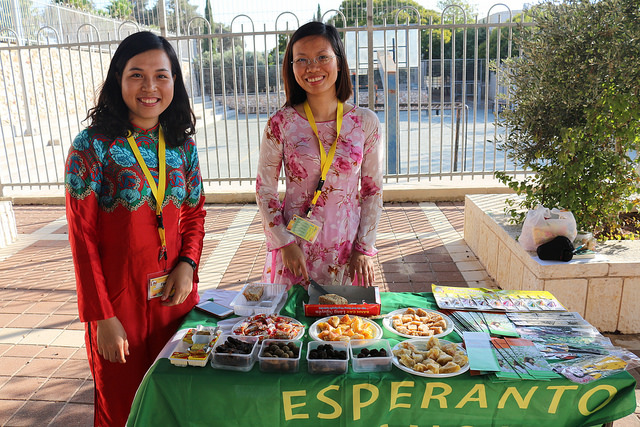 International culinary festival
(source: Anna Maria Koniecpolska-Lachowska)
Are you interested in the cultures of the world? You will have a chance to know the flavours of other countries. During the international culinary festival, you will be able to taste specialties from various countries for free. For a successful festival, every participant should bring something from their country (snacks, candies, cakes, biscuits, alcoholic and non-alcoholic drinks, etc.).

Famous or unusual things (or both) that you cannot find abroad would be ideal. Every country will have a table to present its delicacies and the room will turn into a market of different flavours.