Summer Esperanto Study (SES 2015) took place from the 11th to the 19th of July, 2015.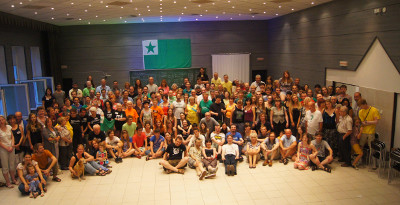 SES 2014 SK participants

Recent News
2015-08-19
Vi povas vidi fotoalbumon de SES!
2015-07-19
SES ĵus finiĝis. Ni dankas al ĉiuj 190 partoprenantoj, kiuj venis de 27 landoj! Bedaŭrinde ne okazos SES venontjare, sed anstataŭe ni kore invitas vin al la Universala Kongreso de Esperanto en Slovakio.
2015-07-05
La programlibro aperis! Vi povas elŝuti ĝin por ekscii, kio atendas vin dum SES.
2015-06-29
SES will begin in just 12 days! In order to gauge your current level of Esperanto, we would like to ask you to answer an online questionnaire, so that we can suggest the course which best fits your current abilities. Read more on the Instruction page.
2015-06-23
Gustumu kaj gustumigu bongustaĵojn de diversaj landoj dum la kuirarta festivalo! Legu la paĝon Kultura programo por scii pli.
2015-06-14
Vi povas vojaĝi al SES malmultekoste per karavano (grupa trajnvojaĝo). Legu pli en Alvenebloj.
2015-06-11
Ĵus aperis bulteno de SES 2015, kiu enhavas gravajn informojn pri via alveno, ĉeesto kaj ĝua partopreno en Somera Esperanto-Studado. Ni rekomendas al vi trovi iom da tempo por tralegi ĝin.
2015-05-28
La aranĝon aŭspicios la ministro de edukado de Slovakio Juraj Draxler, la prezidanto de la regiono de Žilina Juraj Blanár kaj la urbestro de Martin Andrej Hrnčiar.
2015-04-15
The SES website is now available in Ukrainian.
2015-03-25
All 10 teachers who will give lessons during SES are known. Read more in Instruction.
2015-03-09
Kaŝi, kantisto, kiu furoris dum la lastaj SES-oj, venos ankaŭ ĉi-jare! Legu la paĝon Kultura programo por ekscii pli.
2015-02-28
100 people already registered to this year's SES!
2015-01-20
A Czech theater troupe will present a play in Esperanto during SES. Read more in Cultural program.
2015-01-16
The SES website is now available in Catalan.
2014-12-04
The webpage of SES 2015 is already online!
The event takes place in the historical city of Martin, in northern Slovakia, located 210 km away from the Slovakian capital city of Bratislava, 180 km from Krakow (PL) and 230 km from Budapest, capital of Hungary.
The program will consist of several parts:
Morning: teaching of Esperanto;
Afternoon: excursions, lectures, crafts, sports, work groups, etc.;
Evening: national and international cultural evenings, concerts, films, dancing with DJs...
Teaching of Esperanto will be guided by experienced Esperanto teachers in 5 groups, divided by language level.
Photo galleries from previous years: SES 2009, SES 2010, SES 2011, SES 2012, SES 2013, SES 2014 SK, SES 2014 RU
Wikipedia: SES · lernu! · E@I
Bulletin
Here is a newsletter with detailed information about travel to and the stay at SES 2015. Please choose one of the following languages to download the newsletter in.
download: Esperanto ⋅ English
Programme brochure
A brochure has been prepared which contains detailed information on the programme which awaits you in SES 2015: talks, concerts, excursions, etc. Click on the following link to download it:
download
You can read an issue of the magazine "Esperantisto Slovaka", dedicated to SES 2014.: download
A short video about SES 2013:
A short video about SES 2014 SK: